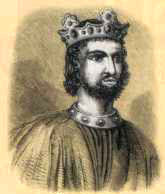 In 1075 AD he tried to claim the throne of England but was unsuccessful.  He later became King of Denmark as Canute IV, succeeding his brother, Harold in 1081.  He built many churches, aided the missionaries and clergy.  He again tried to regain the throne of England in 1085.  Heavy taxes and disputes with the nobles started a rebellion led by his brother Olaf.  He had to flee.  He was found, however, and was slain while kneeling at the altar after going to confession.  His brother Benedict and 17 of his followers were slain in the Church also.  Many miracles were reported to have occurred at his tomb.
FEAST DAY- January 19
Responsorial Psalm
Here am I, Lord; I come to do your will.
Quiz
Yesterday's Answer-
False
Today's Question-
What is the foundation of prayer?
(a) prudence  (b) pride  (c) humility