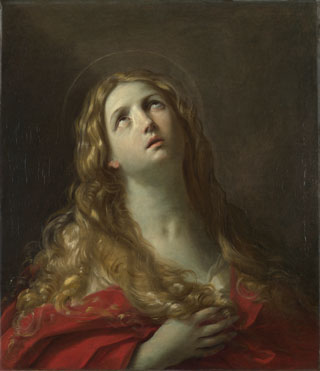 St. Clement of Alexandria identifies her as the woman who washed the feet of Jesus with her tears and others think she was the sister of Martha and Lazarus.  According to St. Mark's account (16-9) she was the first to see the risen Lord in the early morning of the Resurrection.  The Feast of St. Mary Magdalene is celebrated by the Greeks as well as the Latins on this date.
The latest edition of the Roman Calendar says that the Latin Church stipulates that the feast is solely that of the woman to whom Christ appeared and not that of the sister of Lazarus or the penitent woman.
FEAST DAY:  July 22
PATRON OF:  Penitents, converts, hairdressers, sinners
Responsorial Psalm
Lord, show us your mercy and love.
QUIZ
Yesterday's Answer-
"Blessed is he who comes in the name of the Lord."
Today's Question-
What event in Jesus' life gave Peter, James, and John a foretaste of Jesus' divine glory?
(a) Transfiguration    (b) Agony in the garden    (c) Entry into Jerusalem
#SaintoftheDay #StRaphaelCenter #IncredibleCatholic #MaryMagdalene