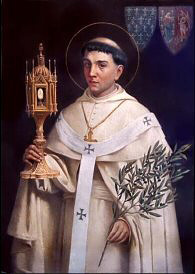 Born in Xanten in the Rhineland about 1080, he devoted the early part of his life to the world and its pleasures.  He was ordained a sub deacon, but his fear of greater restraint prevented him from receiving higher orders.  His horse was frightened by a stroke of lightning, and Norbert was thrown and knocked senseless.  He became a sincere penitent upon regaining consciousness and began to lead a retired and penitential life.  He spent two years preparing himself for the priesthood.  He sold his property and gave the proceeds to the poor.  He went from place to place preaching penance.  He established an Order at Premontre which flourished during his lifetime.  About the year 1125, he was forced to become Archbishop of Magdeburg, but he still practiced his austerity.  He and St. Bernard worked to extinguish the disorders caused by the schism of the anti-pope, Anacletus.  He fell ill upon his return from Rome and died four months later on  June 6, 1134.
FEAST DAY:  June 6
PATRON OF:  Peace, Bohemia
RESPONSORIAL PSALM
The Lord has established his throne in heaven.
QUIZ
Yesterday's Answer-
(a) Petition
Today's Question-
To whom is the Church's prayer primarily addressed?
#SaintoftheDay  #StRaphaelCenter  #IncredibleCatholic