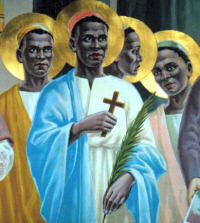 The White Fathers were permitted to preach the Faith in Uganda by King Mtesa where they had some good results.  His successor, King Mwanga, initiated a fierce persecution against "all those who pray,"–that is all Catholics.  The elite Ugandan youths were among the victims.  Charles Lwanga was the chief of the royal pages and had 21 under his charge.  He was the first to be burned alive and 12 others followed him on that same day, June 3, 1886.  The others were killed between May 16, 1886 and January 17, 1887.  They were beatified in 1920.  Pope Paul VI canonized them in 1964.  He said that these martyrs inaugurated a new age.  Bathed in their blood, Christianity has found a ready hearing in Africa. This is a mysterious plan of God.
FEAST DAY:  June 3
RESPONSORIAL PSALM
Sing to God, O kingdoms of the earth.
Q
UIZ
Yesterday's Answer-
(a) The coming kingdom
Today's Question-
Jesus taught us to ask God anything in his name.  What is new about this teaching?
(a) to ask God     (b) to ask for anything     (c) to ask in Jesus' name
#SaintoftheDay  #StRaphaelCenter  #IncredibleCatholic