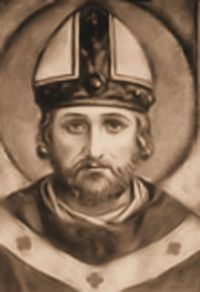 St. Heribert was born in Worms, Germany around the year 970. He was educated at Gorze Abbey in Lorraine.  He wanted to become a Benedictine, but his father obtained a canonry for him and he was ordained.  He became a trusted counselor of Emperor Otto III.  In 998 he was named archbishop of Cologne.  He accompanied Otto on  a trip to Italy where Otto died in 1002.  Through a mutual misunderstanding, Henry disliked Duke Henry of Bavaria who became Emperor Henry II.  The two were later reconciled and Heribert became Henry's chancellor.   They worked together for the good of the people.  Heribert built a monastery on the Rhine where he was a peacemaker, a firm disciplinarian, a holy man, and became devoted to the poor.  He knew the value of money and always saw that his was divided among the poor.  It was said that he performed a miracle during a time of drought.  It was through his prayers that a torrential rain fell, saving the harvest and delivering the people from famine.  He died  March 16, 1021.  Pope Gregory VIII canonized him between 1073 and 1075.
FEAST DAY:  March 16
PATRON OF:  Time of drought
Responsorial Psalm
Lord, let your mercy be on us, as we place our trust in you.
Quiz
Yesterday's Answer-
True
Today's Question-
It is a valid excuse for some people to have little time for prayer.  True or False?