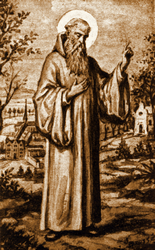 Born in 1065 near Soissons, France became a monk and priest.  He was chosen Abbot of Nogent in Champagne, a rapidly declining religious house.  Its outer appearance was completely dilapidated and its religious life was in disarray and floundering.  With the force of Godfrey's personality and spirituality, he soon had it flourishing in every way.  He turned down the offer of Saint-Remi at Rheims choosing to remain running his own house.  In 1104, he accepted the episcopacy of Amiens.  Here he put an end to simony, strenuously enforced celibacy and endorsed the establishment of communes.  He provoked the opposition because of his strickness, and he withdrew to a Carthusian monastery in 1114.  Council ordered him to return to his diocese, but he died in 1115 at St. Crispin's Abbey in Soissons before he could return.
FEAST DAY:  November 8
Responsorial Psalm
Blessed the man who fears the Lord.
QUIZ
Yesterday's Answer-
True
Today's Quiz-
What is not sign against the eighth commandment?
a) perjury  b) detraction  c) calumny  d) deceiving  e) envy