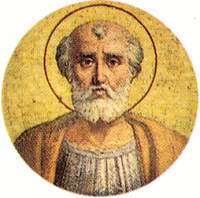 St. Callistus, a Roman by birth, was a slave of a Christian master early in life.  He panicked and fled after inadvertently losing some of his master's money.  He was captured and cast into a dungeon.  His master freed him and hoped that his honest and intelligent slave would be able to make some money and give back what he had lost.  While trying to do just this, he was accused as a Christian and condemned to the Sardinian mines.  His release was obtained and he was taken into the service of Pope Victor.  The Pope was impressed with him especially by his devotion to the Sardinian martyrs.  He became a deacon and later secretary to Pope Zephyrinus.  He was put in charge of the Christian cemetery on the Appian Way.  After Zephyrinus' death, Callistus was chosen to be Pope and governed the Church for five years and two months.    During the reign of Emperor Alexander Severus, Christians were able to build churches for the public exercise of their religion.  Callistus was a wise and firm shepherd.  He instituted the fast on Ember Days, decreed that ordinations     take place during Ember Weeks, established the practice of absolution of all sins, including those which rigorists considered irremissibly.  He founded the Church of St. Mary Beyond the Tiber and provided for the burial of martyrs.  He was martyred, probably at the hands of a mob, in 222.
FEAST DAY:  October 14
Responsorial Psalm
Let your mercy come to me, O Lord.
QUIZ
Yesterday's Answer-
False
Today's Question-
Sin hurts human nature and human community
True or false