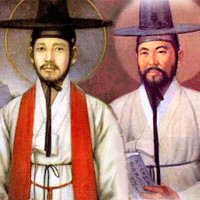 At the beginning of the 17th century through the efforts of several laypersons, the Christian faith reached Korea, where a strong and vital Christian community flourished under lay leadership until 1836 when, in secret, missionaries from France, members of the Paris Foreign Mission Society entered the country.  One hundred and three members of the Christian community gave their lives as martyrs during the persecutions of 1839, 1846, 1866, 1867.  Leaders of these witnesses were Andrew Kim Taegon, pastor, and the apostle, Paul Chong Hasang.  Among the martyrs were bishops and priests, but mostly they were laity.  All suffered greatly for the faith and consecrated the rich beginnings of the Church of Korea with their blood as martyrs.
FEAST DAY:  September 20
RESPONSORIAL PSALM
The Lord upholds my life.
QUIZ
Yesterday's Answer:
c)  Levites
Today's Question:
Only Christ is the true "priest" while all the others who are ordained priests are ministers in Christ's name only.
True or false?