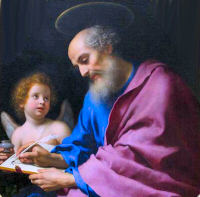 St. Matthew wrote the first Gospel.  He was a tax collector when Jesus called him to "follow me".  He immediately arose and followed Him.  Matthew prepared a meal for Jesus and His apostles.  The Pharisees were indignant.  Jesus said, "I didn't come to call the just but to call sinners."  As an apostle, Matthew preached far and wide.  It is thought that he died in Parthia.
FEAST DAY:  September 21
PATRON OF:  Accountants, bookkeepers, tax collectors, security guards
RESPONSORIAL PSALM
The Lord is near to all who call upon him.
QUIZ
Yesterday's Answer-
True
Today's Question-
Christ as head of the Church is made visibly present through _________.
a) the clergy     b) the laity and the clergy     c) the religious.