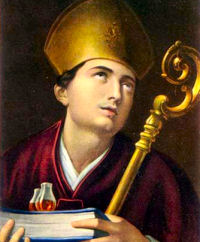 St. Januarius was born about 275.  When he was Bishop of Benevento, the persecution of Diocletian broke out.  Sosius, a deacon and  a very special friend of Januarius, and several other religious and eminent laymen were put into prison for the Faith by order of the Governor of Campania.  Hearing of this, St. Januarius went to pay them a visit in order to encourage them.  Suspicion was aroused and the Governor ordered that Januarius be brought before him at Nola.  Two others of his church were also apprehended and shared in his sufferings.  After harsh treatment, the three of them were thrown into prison where four other martyrs were.  By order of the Emperor, they were to be torn into pieces by wild beasts.  St. Januarius and the others were put in the ampitheater, but none of the animals touched them.  They were then beheaded.  The relics of St. Januarius were sent to Naples about 305.  Some of his blood is in a sealed vial.  It is a dark solid mass.  When held near a relic (believed to be his head), it liquefies.  There is no natural explanation for this well-attested phenomenon.
FEAST DAY:  September 19
PATRON OF:  Blood banks, volcanic eruptions
RESPONSORIAL PSALM
Lord, when your glory appears, my joy will be full.
QUIZ
Yesterday's Answer-
c) Deacon, priest and bishop
Today's Question-
Which Old Testament tribe was set apart for liturgical service for the priesthood of the old covenant?
a) Pharisees     b) Levites     c) Israelites