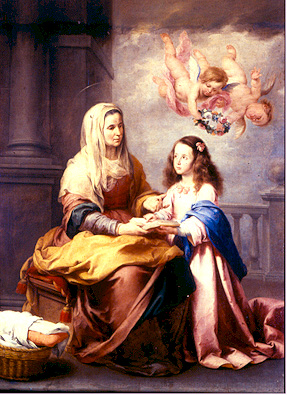 Joachim and Ann were advanced in age and had almost no hope of having a child.  In Nazareth in Galilee, they were gratified by the birth of a daughter who they named Mary.  Mary was chosen to be the mother of Jesus Christ, the savior of the world.  September 8 is her feast day and August 15 the feast day of the Solemnity of Mary originated in Jerusalem. 
FEAST DAY:  September 8
Responsorial Psalm
With delight I rejoice in the Lord.

QUIZ
Yesterday's Answer-
The Gospel of John
Today's Question-
What Jewish feast day was the occasion for Jesus' Last Supper with his disciples?