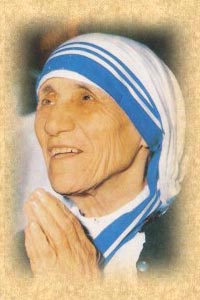 Mother Teresa was born August 26, 1910.  She entered the Loreto Covent in Rathfarnam, Ireland, in 1928.  In 1929, she left Ireland, and she was sent to India.  In 1937, she took her final vows in India.  After spending 15 years in India, Mother Teresa "heard the call to give up all and follow Christ into the slums to serve him among the poorest of the poor."  In 1948, Mother Teresa, with the permision of the Pope, left her community.  She lived as an independent nun in India.  Instead of wearing her habit from the Loreto sisters, she wore a plain white sari and sandals like the women of India.  She served the poor in the slums of India.  Other women volunteered to help.  In 1950, she founded the Congregation of the Missionaries of Charity.   The Missionaries of Charity are in 123 countries and number around 4,000 sisters.  Mother Teresa died in Calcutta on September 5, 1997.  Pope John Paul II beatified Mother Teresa on October 19, 2003.
Responsorial Psalm
The salvation of the just comes from the Lord.
QUIZ
Yesterday's Answer-
True
Today's Question-
The Second Vatican Council said that the eucharist is "the source and summit of the whole Christian life."
True or false?