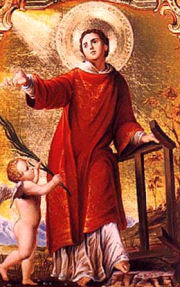 St. Lawrence was a Deacon of the Church of Rome.  He was martyred during the persecution of Valerian four days after the martyrdom of Pope Sixtus II and his four companions.  His tomb is located in the field of Verano near the Via Tiburtina where Constantine the Great later built a basilica.  Devotion to Lawrence was widespread by the fourth century.
FEAST DAY:  August 10
PATRON OF:  Deacons, comics, vintners
Responsorial Psalm
Lord, let us see your kindness, and grant us your salvation.
QUIZ
Yesterday's Answer-
(c) Evangelization
Today's Question-
Who are those who individually consecrate their lives to Christ and live a life of silence and solitude?