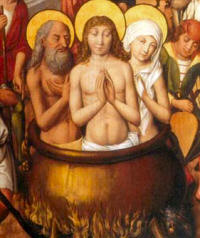 This account is based on an unreliable legend.  He was the only son of a senator in Sicily.  He became a Christian when he was 12 years old.  The administrator of Sicily had Vitus brought to him and tried to shake his faith.  Vitus, his tutor, Modestus, and servant, Crescentia fled to Lucania and then to Rome.  There he freed the Emperor's son of an evil spirit. When he refused to sacrifice to the gods, his cure was attributed to sorcery.  The three of them were subjected to various tortures, but they were unscathed.  During a storm, the temples were destroyed, and an angel guided them to Lucania where they eventually died.  What is fact is that their cult goes back centuries, and they were Christians who were martyred.  Vitus is one of the Fourteen Holy Helpers. 
FEAST DAY:  June 15
PATRON OF:  Epileptics, dancers, actors, protection against storms
RESPONSORIAL PSALM
Glory and praise for ever!
QUIZ
Yesterday's Answer-
(a) vocal
Today's Question-
 What was the response of the rich young man to Christ's invitation to sell his possessions and follow him?
(a) he went away sad     (b) he was eager to follow     (c) he hesitated to respond
#saintoftheday   #straphaelcenter   #incrediblecatholic