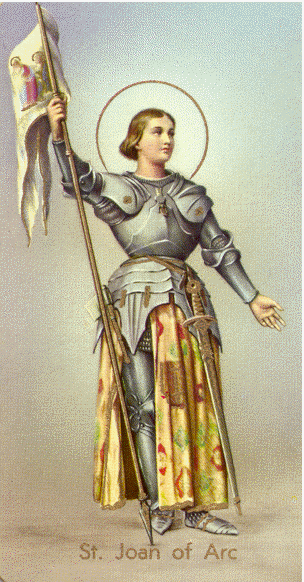 St. Joan of Arc was born January 6, 1412 at Domremy in France.  As a child, her mother taught her to pray each night, "O God save France".  She tended sheep in the fields.  While tending the sheep in the fields, she heard voices from Heaven.  St. Michael appeared to her and told her of the desperation of France.  After much opposition, the 17 year old girl was given a small army.  She led the troops on the battlefield, and the enemy was defeated. In May of 1430 she was captured by the Burgundians and sold to the English.  Later, King Charles abandoned her and did nothing to save her.  When she refused to retract that it was the saints who had commanded her to do what she did, she was condemned to death and burned at the stake on May 30, 1431.  She was exonerated of all guilt 30 years later and canonized in 1920.
FEAST DAY:  May 30
PATRON OF:  Prisoners, soldiers, France
RESPONSORIAL PSALM
God is king of all the earth.
QUIZ
Yesterday's Answer-
The tenth commandment
Today's Answer-
When Moses encountered God's voice in the burning bush, what did God require him to do?
(a) remove his hat     (b) fall on his knees     (c) take off his sandals