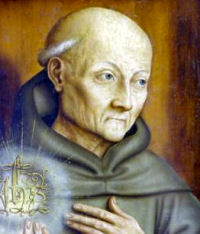 He was born at Massa in the territory of the Republic of Siena in 1380.  He was orphaned at an early age.  A pious aunt educated him as if he were her own.  He became a member of the Confraternity of Our Lady.  He served the sick in hospital, and when the great pestilence broke out in 1400, he served them and persuaded other young men to help.  He joined the Fathers of the Strict Observance of the Order of St. Francis.  After becoming a priest, he devoted himself to preaching.  He labored for 14 years in his own country extolling devotion to the Holy Name of Jesus.  He became the apostle of Italy in the 15th century.  Three times he refused Bishoprics.  His sermons brought about wondrous results.  Ever humble, he sought to conceal the talents given to him by God.  After 5 years of being Vicar- General of the Strict Observance, he obtained his release and went on to the work of preaching.  He died in 1444.
FEAST DAY:  May 20
PATRON OF:  Advertising, lung problems, public relations
RESPONSORIAL PSALM
Your friends make known, O Lord, the glorious splendor of your kingdom.
QUIZ
Yesterday's Answer-
Charity or law of love
Today's Question-
The common good cannot be achieved without peace.  True or False?