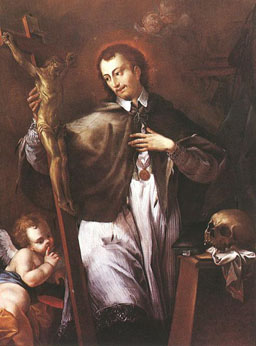 He was consecrated to God after he was cured of a disease through the prayers of his parents.  After his ordination, he went to a parish in the city of Prague.  He was a great preacher and those who heard him changed their way of life.  He did many kind deeds for the needy people of the city after being invited to the court of Wenceslaus IV.  The Queen chose him as her confessor.  Fr. John taught the queen to patiently bear her cross of cruelty from the king.  The king tried to get Fr. John to tell him what she confessed.  When he refused, he was thrown into prison.  Again he was asked to reveal her confession which he again refused to do.  The king promised him riches and honors if he did so.  Again he refused.  The king ordered him tortured and to be thrown into the river.  A strange brightness appeared upon the water where he drowned.  He is known as the Martyr of the Confessional.
 FEAST DAY:  May 16
PATRON OF:  Confessors
RESPONSORIAL PSALM
You are my Son; this day I have begotten you.
QUIZ
Yesterday's Answer-
True
Today's Question-
The greatest of all virtues and without which "I am nothing" according to St. Paul is _________________.