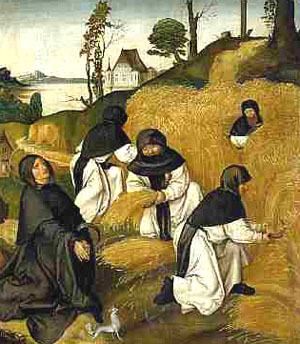 St. Stephen was born at Dorset, England in the second half of the 11th century.  He was educated at Sherbourne Abbey.  He grew to be a man of great charm and a first-rate scholar.  He became a monk at the Abbey of Molesme.  There he and the Abbot, St. Aleric, and  St. Robert worked with zeal for reform.  The three monks along with 20 other monks lived a life according to the Rule of St. Benedict. When St. Aleric died in 1108, St. Stephen became Abbot of Citeaux and built up the community.  They endured many hardships.  St. Bernard arrived there with thirty of his followers in 1112.  During the next eight years a dozen more Cistercian houses were built to house all those who came to them.  The spirit of the Cictercian Abbey was defined by the "Charta of Charity" which St. Stephen wrote in 1119.  His high ideals, character and simplicity mirror the great saint who ruled the monastery for 25 years.  He resigned his position because of his advanced age and near-blindndess.  He died March 28, 1184.
 FEAST DAY:  April 17
Responsorial Psalm
Our blessing-cup is a communion with the Blood of Christ.
Quiz
Yesterday's Answer
Pontius Pilate
Today's Question
Where on the body does the bishop anoint with oil during confirmation?