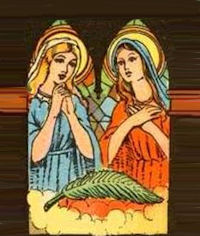 Legend questions that Basillisa and Anastasia were noble Romans who were converted by and eventually became disciples of  Sts. Peter and Paul.  When the two recovered the bodies of Sts. Peter and Paul after their executions, the two were put in prison and tortured and then beheaded by order of Emperor Nero because they acknowledged that they were Christians.
FEAST DAY:  April 15
Responsorial Psalm
I will sing of your salvation.
Quiz
Yesterday's Answer-
Creation
Today's Question-
What is the name for God who made heaven and earth?