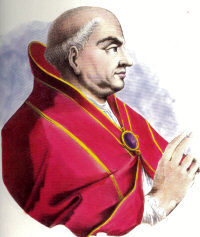 St. Martin was a native of Tuscany and a member of the Roman clergy.  He was elected to succeed Pope Theodore in 649.  In a Council which he convened, he condemned the leaders of heresy, the Monothelites, and a document from Emperor Constans was censured.  The Emperor had him sentenced to death or sent East as a prisoner.   He was miraculously saved from the attempt to kill him.  The emperor sent others to seize him while he lay sick and was taken to Constantinople.  After three months he arrived on the island of Naxos.  There he was kept for a year and was subjected to many indignities.  He was put in a dungeon in Constantinople and was persecuted.  He was abandoned by all as they feared being seized.  He died in 655 after a prolonged martyrdom.
FEAST DAY:  April 13
Responsorial Psalm
My God, my God, why have you abandoned me?
Quiz
Yesterday's Answer-
Following the Eucharistic prayer and before communion.
Today's Question-
Which comes first in the Lord's Prayer?  Blessing God or petitioning God?