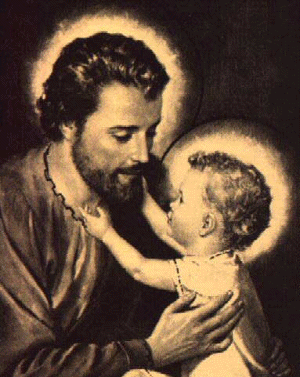 Joseph was a royal descendant of the royal House of David.  A lowly village carpenter of Nazareth, he was chosen by God to be the husband and protector of the Virgin Mother of Jesus Christ, God Incarnate.  His family came from Bethlehem in Judea but he had moved to Nazareth in Galilee where he was a builder.  After the Mother of God, no other man was gifted with natural and supernatural virtues as was St. Joseph, her spouse.  He was the divinely appointed head of the Holy Family.  On December 8, 1870, Pope Pius IX, solemnly proclaimed the foster father of Jesus as Patron of the Universal Church.   This feast is celebrated on March 19.  There is another feast of St. Joseph the Worker which is celebrated May 1.  Blessed Pope John XXIII inserted the name of St. Joseph in Eucharistic Prayer 1, or the Roman Canon.
FEAST DAY:  MARCH 19
PATRON OF:  Happy death, the church militant, carpenters, fathers
Responsorial Psalm
The son of David will live for ever.
Quiz
Yesterday's Answer-
(b) Jerusalem
Today's Question-
Who was the disciple who betrayed Jesus?