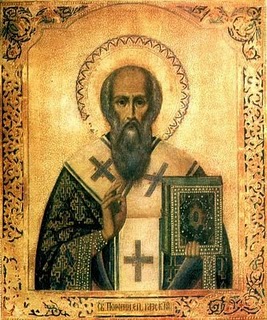 Born in Thessalonica in Macedonia.  He left home in 378 at the age of twenty-two to become a monk of Scete in Egypt.  After five years, he went to Palestine and visited the holy places of Jerusalem.  He passed five more years in a cave on the Jordan.  He was miraculously cured of disease.  He was ordained a priest by the Bishop of Jerusalem against his will.  He was given the job of the keeping of the Holy Cross.  He was made Bishop of Gaza in 396 by the Archbishop of Caesarea who used a ruse of saying he wished to consult him.  He overthrew the idol Marna and its temple.  His faithful disciple and companion, Mark, wrote of his life. It is an important source of information about paganism in the Christian East.  He died February 26, 420.
FEAST DAY-February 26
Responsorial Psalm
Blessed are the poor in spirit; the Kingdom of heaven is theirs!
Quiz
Yesterday's Answer-
False
Today's Question-
Praying, fasting and giving alms to the poor are not always morally good.  True or False?