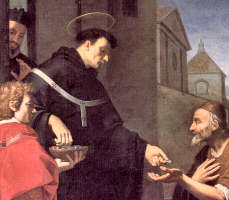 He was born at Orleans, France.  Around the year 714 he became a Benedictine monk at Jumieges.  He was elected Bishop of Orleans around 718 over his vehement objections.  He was exiled to Cologne by Charles Martel, mayor of the palace, because Eucherius opposed the use of Church funds to finance Charles' war expenses.  Because of his popularity in Cologne, Charles put him under virtual arrest at Liege.  Eventually, he was permitted to retire to Saint-Trond Monastery,  where he spent the rest of his life.  He died February 20.
FEAST DAY- February 20
Responsorial Psalm
The Lord hears the cry of the poor.
Quiz
Yesterday's Answer-
(c) Assumption
Today's Question-
What gesture made by the bishop during the sacrament of confirmation symbolizes the transmitting of the Holy Spirit?
(a) the greeting of peace  (b) the laying on of hands  (c) a slap on the cheek